Award Winning MARKETING BEST-SELLER
Fresh New Ideas Every Year since 2009!
Subscribe Above
and then
come back to download
your free sample

Get your free sample
of the 2016 edition!
All New!
Companion Playbook
Now Available!
Easily plan and track your marketing
Organized by month
Room to write notes
Track your success
No expiration date! Start using any time.
Complete Your Collection!
Previous PDF Editions Available HERE!

Available in all formats at Amazon!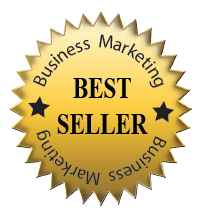 All New 2022 — 14th Edition
Available in Kindle & ePub, PDF,
Now in Print!



Give the gift of Entrepreneurial Success,

to someone you know

… maybe even

YOURSELF!
AMAZON BEST-SELLER MARKETING CATEGORY!

Now you can enjoy this inspiring business marketing calendar to use as your FIRST RESOURCE for marketing your business all year round.

With the annual Weird & Wacky Holiday Marketing Guide as your business marketing resource every day of the year can be used as a reason to market your business.

Put the FUN back into your business' marketing plan with the Weird & Wacky Holiday Marketing Guide now available in your choice of platform.

Get your copy today, and make this year your year to shine!
Get a

WHOLE YEAR

of Marketing Ideas! in your preferred format
Every day you delay putting your marketing plan in action costs you customers and income.
2022 Kindle Edition $9.99
2022 ePub Edition $9.99
2022 PDF Edition $19.95
Put the FUN back in your business!
14th Edition (2022) PRINT
$24.95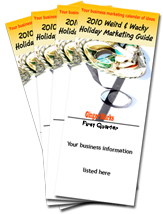 Would you like to share the HMG Book as brandable quarterly booklets with your clients and friends? Contact Ginger to find out more. As a bonus, you will receive one copy of the companion resource guide. Send a quick email to designer .at. documeantdesigns .dot. com.
Do you want to brand your business with Custom Card Covers? Browse our portfolio here.